PMI Racing Sponsors
» Wisconsin
Please feel free to visit our sponsors sites below.

Pavement Maintenance Inc. (PMI) is a leader in road milling and pulverizing throughout Wisconsin, Illinois and Minnesota. We have been improving roads and providing superior results though our dedicated staff for over 23 years.

Simons CPR has 20 years of experience designing custom high performance parts. We have a complete product line that will make your "Sled" run like your have never experienced before.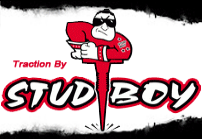 Stud Boy is the premier manufacturer of snowmobile carbide studs, backer plates, carbide wear bars, and accessories. "STUD BOY"® products provide the safety and performance that gets the power to the ground while maintaining confidence in snowmobile control. Traction control products puts ease in knowing your snowmobile will respond the way you need it to, and "STUD BOY"® stud & wearbar products will provide this confidence!
Get "traction with an attitude" and a different feel in your snowmobile with "STUD BOY"® traction products.

Beyond Custom Websites specializes in creating small business websites that get found. Many small businesses either don't have a website or they have a website that doesn't work. We build each of our small business websites to match what potential customers will search for when looking for a business like yours.